Basic Obedience &
House Training Program
Basic obedience
House Training Program
for Dogs
Are you interested
in this service?
Contact Emily for details and pricing
Contact Us
Emily Scott has been training dogs professionally for 30 years.
She has worked with a world renowned service dog organization that placed strong value on humane, positive training techniques. She has been trained in traditional dog training techniques but specializes in use of operant conditioning training, specifically positive reinforcement training using food reward and 'marker' training using a clicker. It is so exciting to watch a dog grow and develop through positive training methods. Dogs are far more willing to work with us when we work with them, and don't FORCE them to submit to our will. All dogs thrive with structure and clear, consistent expectations of behavior. Obedience training is an essential element in developing your dog into a loving, well behaved member of your family. Emily is committed to learning about each dog's personality and design a training program catered to the dog's particular temperament qualities, as well as the dog owner's needs. This program is wonderful for new rescue dogs as well as older dogs with established behaviors.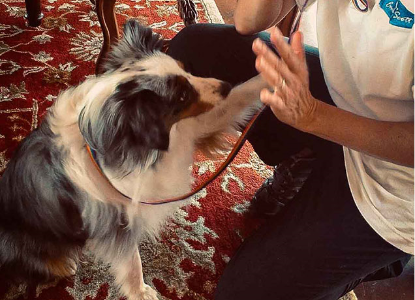 Emily's program includes 4 private training sessions.
Behaviors Taught:
Positive Reinforcement Clicker Training (Load to clicker)
Behaviors Modified:
Scavenging (counter surfing)
Want to learn more? Please contact us for more information and to enroll in the program!