"THERAPY DOG TEAM."
The handler and the dog have been trained to provide interactions such as visiting patients in hospitals and nursing homes, working with incarcerated individuals, assisting those in reading programs. These animals are considered pets and are not provided public access under the Americans with Disabilities Act (ADA).
"THERAPY TEAM HANDLER."
This person has received training with the dog to provide animal assisted interactions.
"THERAPY TEAM DOG."
The dog has received training with its handler to provide animal assisted interactions."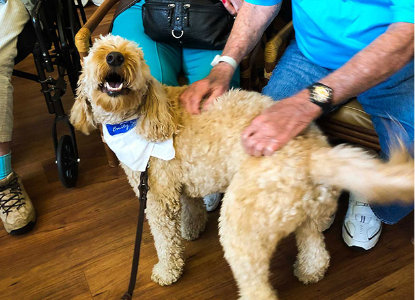 - International Association of Canine Professionals (Therapy Dogs Definitions)
Therapy dogs provide comfort and support to other people through calm well behaved interactions. Therapy dogs must be stable, well trained dogs that enjoy the touch and interaction of strangers. Therapy dogs provide support to people in rest homes, hospitals, airport, and school environments. The handler (owner) manages the dog around people and ensures the dog is well behaved and calm at all times.

There are 2 levels of therapy dog certifications:
AKC Canine Good Citizen Testing
Therapy Dogs International Testing
Some facilities require that the dog has a AKC Canine Good Citizen (CGC) certification to be allowed to visit.
Please click here to view more info on the AKC Canine Good Citizen Testing and certification process

https://www.akc.org/products-services/training-programs/canine-good-citizen/

Some facilities require the dog has a Therapy Dogs International (TDI) certification (a more rigorous certification process) to visit. Please click here to view more info on the Therapy Dogs International Testing Certification process:

https://www.tdi-dog.org/default.aspx

Therapy Dog Training Services:
Emily is a certified AKC Canine Good Citizen Test evaluator. Emily will evaluate your dog to determine if the dog is a good candidate for a service dog, then she will develop a program to help you train your dog to pass the CGC test.
Emily is able to conduct the test when she feels the dog is ready to test!

Emily Scott is proud to partner with several senior assisted living facilities in the area. She brings therapy dogs 'in training' into facilities monthly to help train the dogs to learn calm manners and to get accustomed to wheelchairs, walkers etc. The visits are wonderful for the dogs but also wonderful for the senior residents!
ADI Test prep. Emily has helped many dog/handler teams prepare for and pass the rigorous Assistance Dogs International test.
If your goal is to have train your dog to be a therapy dog, then Emily can help! Contact her for more information!